Intro
I am pretty much new on this platform and still learning how it works and recently discovered Dlive. Having experience in online streaming, i was quick to realize that they offer us members of this great community a way to live stream (broadcast) or watch other live streams (viewers) just like other online streaming services such as Twitch, Youtube and Mixer and other live streaming services which one can find all over the internet.
So what makes Dlive so special? you will find out soon!
What is Dlive ? What So Special About It!
So since i just gave a small intro about Dlive and said other more established names in the scene offer the same services why should you make use of Dlive instead of the services others offer? The answer is pretty simple and its the following. Based on my knowledge in the Crypto sector Dlive is the first decentralized video streaming platform based on Steem and it works just like Twitch and the rest of the other big name streaming services out there.
Since Dlive is decentralized that means that there is no big named company such as Twitch, Youtube etc.. taking your profits or bossing you around on there terms and conditions after all it is us users who bring them PROFITS so why should they take most of it when its YOU who is generating it for them?
Dlive has a solution to that problem and here are a couple of reasons why you should start using Dlive
DLive will take 0% transaction or commission fees from its users. its completely free and all profits are yours to keep
No annoying advertisements will be displayed during the live stream so relax those ad blockers you got running everyone
Dlive runs on a blockchain this makes it safe, secure and free to use
We can do micro transactions without any hidden fees or any fees for that matter
Users are awarded curation and creation rewards just like on Steemit
Your live broadcast is automatically recorded and you can upload it so that viewers can watch it
How Do I Register
Step 1:
You can easily register on Dlive but clicking this link right here and click on the login button found on the upper right corner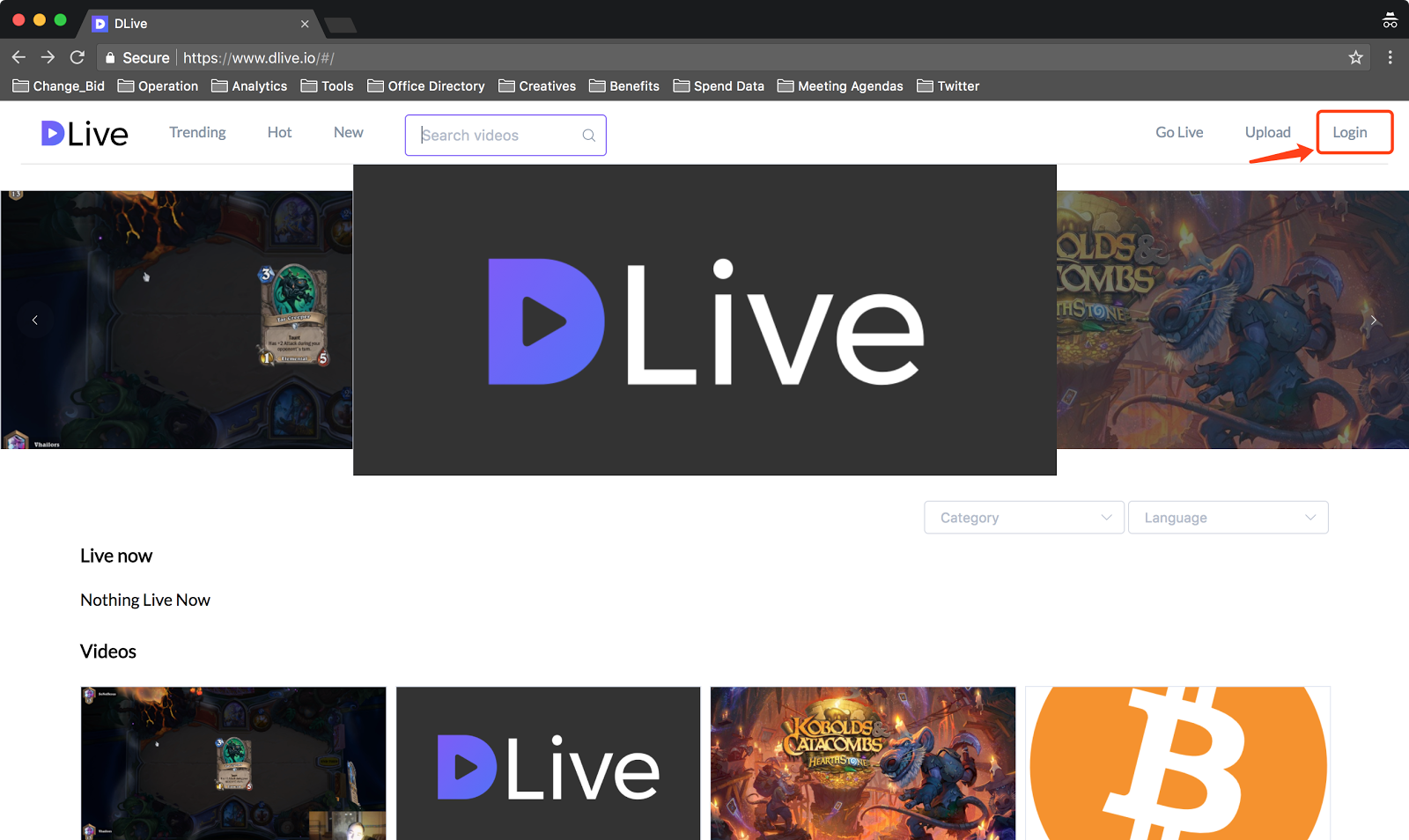 Step 2:
Click on the big blue continue button as seen in the screenshot below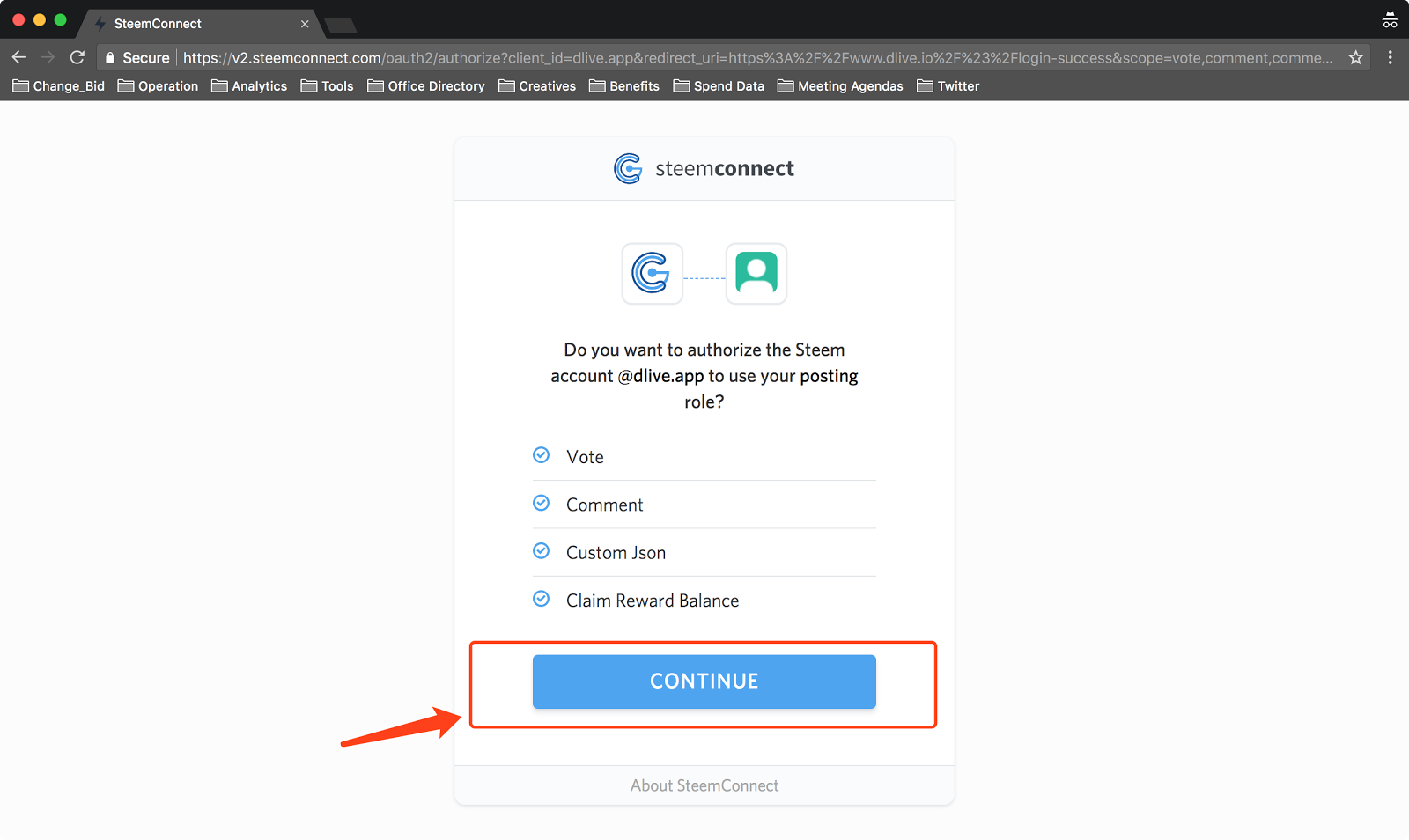 Step 3:
Enter your username and password/key and click on the sign in button as seen below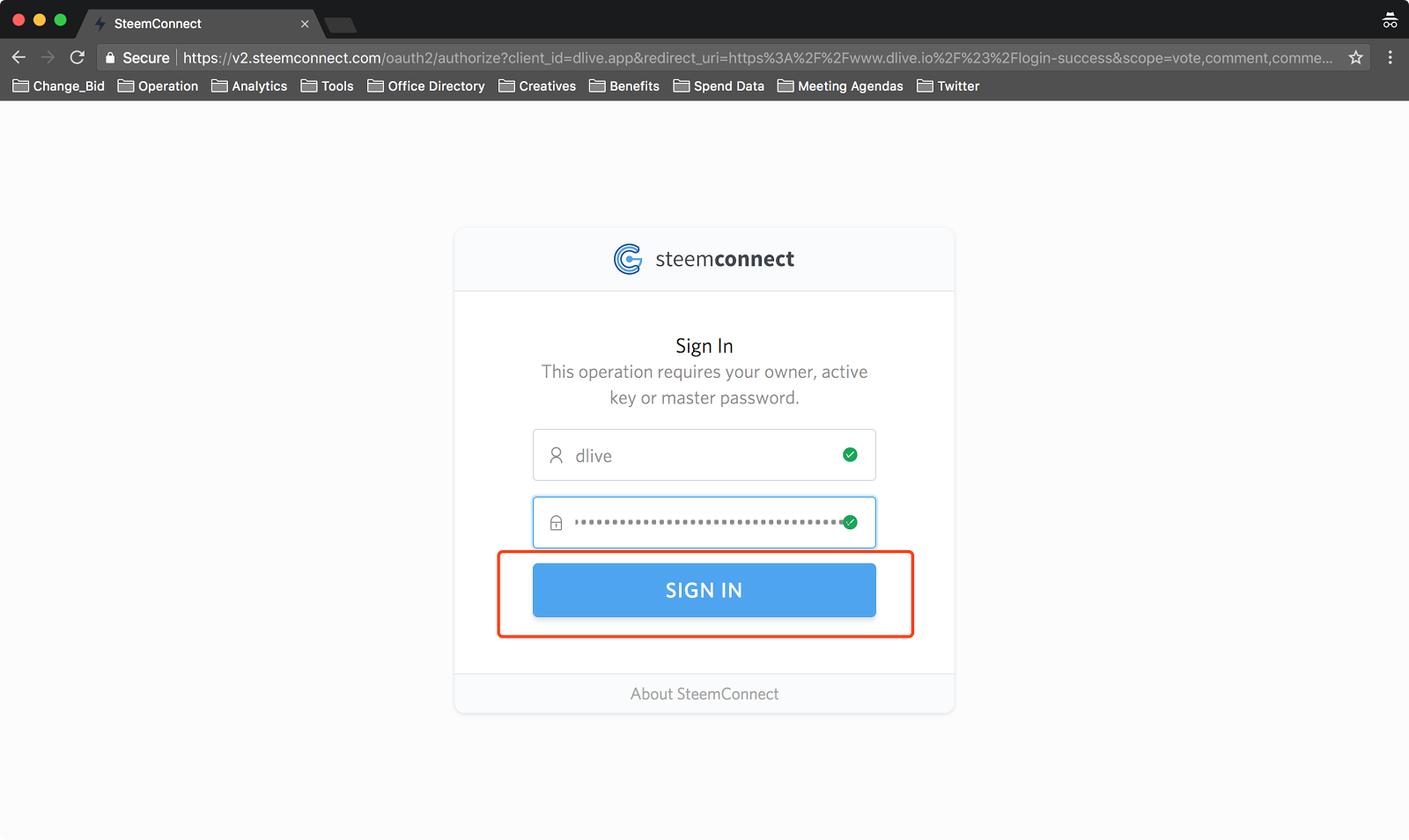 Step 4:
Congratulations you are now a member of this awesome community
How Do I Broadcast
Step 1:
In order to broadcast you first need to find a streaming software the one i recommend to every user is OBS (Open Broadcast Software) you can download that for free from here and install it on your computer
Step 2:
On the Dlive website click on the Go Live button as seen on the screenshot below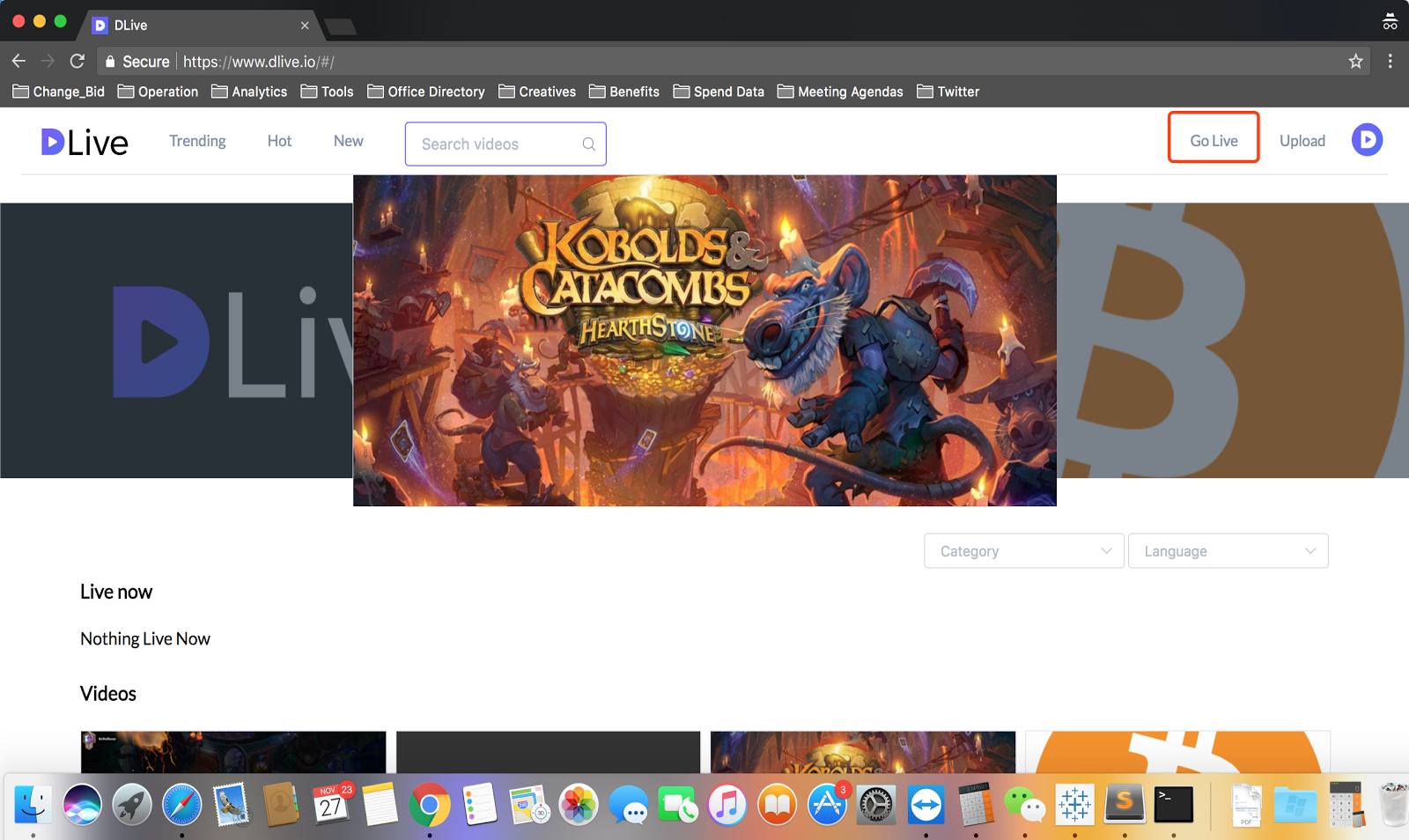 Step 3:
Fill in the details which are required and upload a thumbnail image for your stream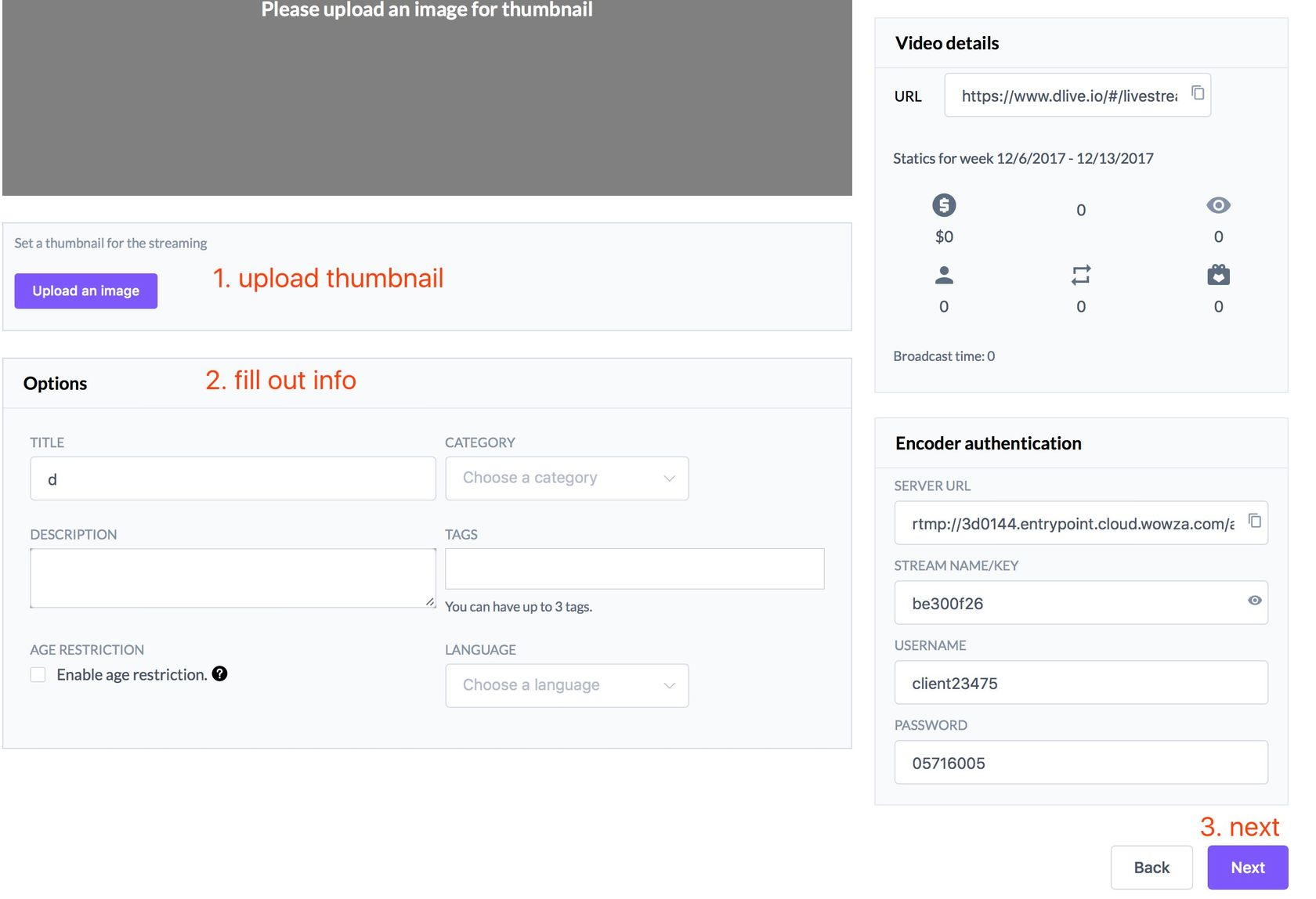 Step 4:
Fill in the steemit post information so that others know what you are going to broadcast and click on the post button as seen below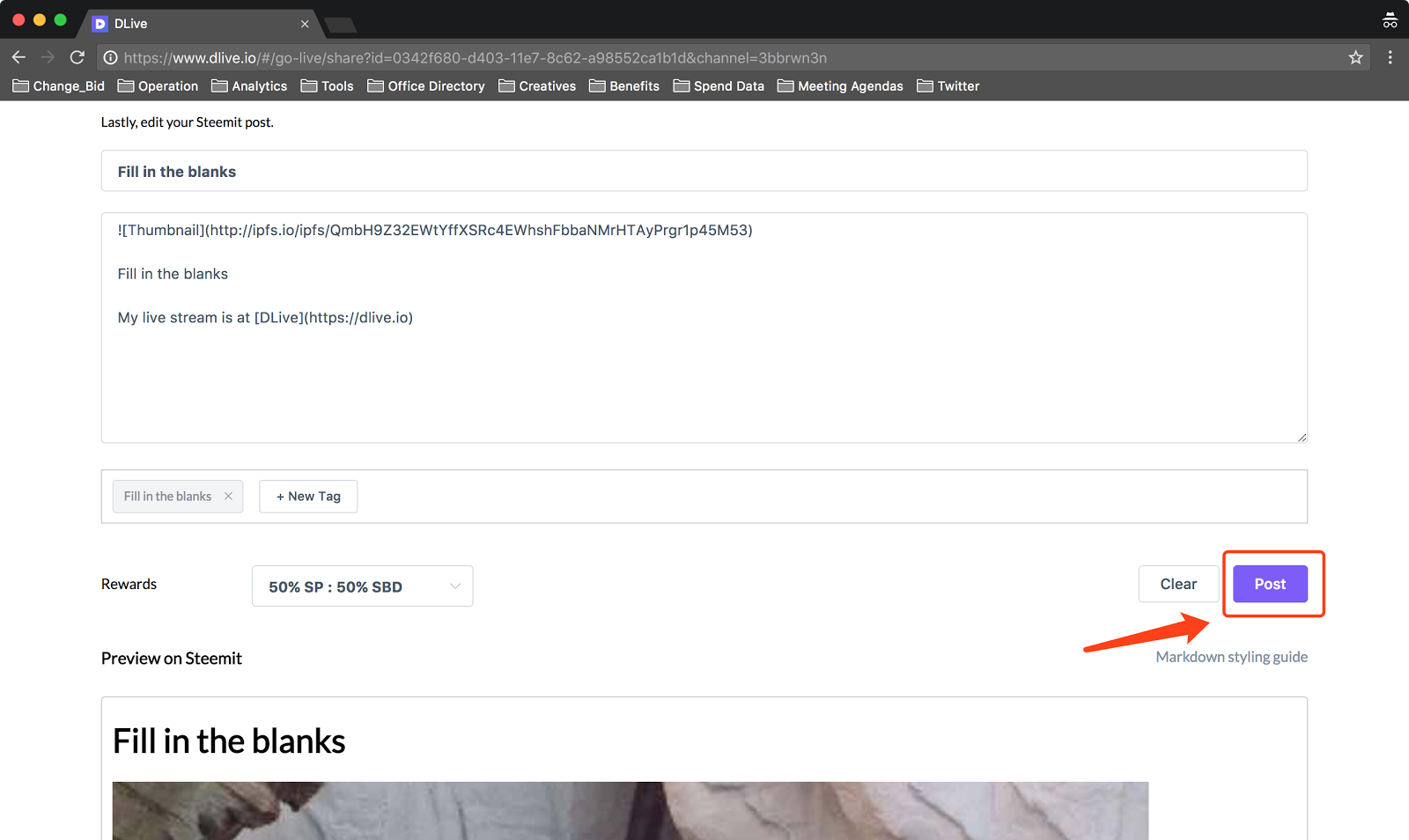 Step 5:
Open OBS the software which you have installed on your computer and click on the settings button as seen in the screenshot below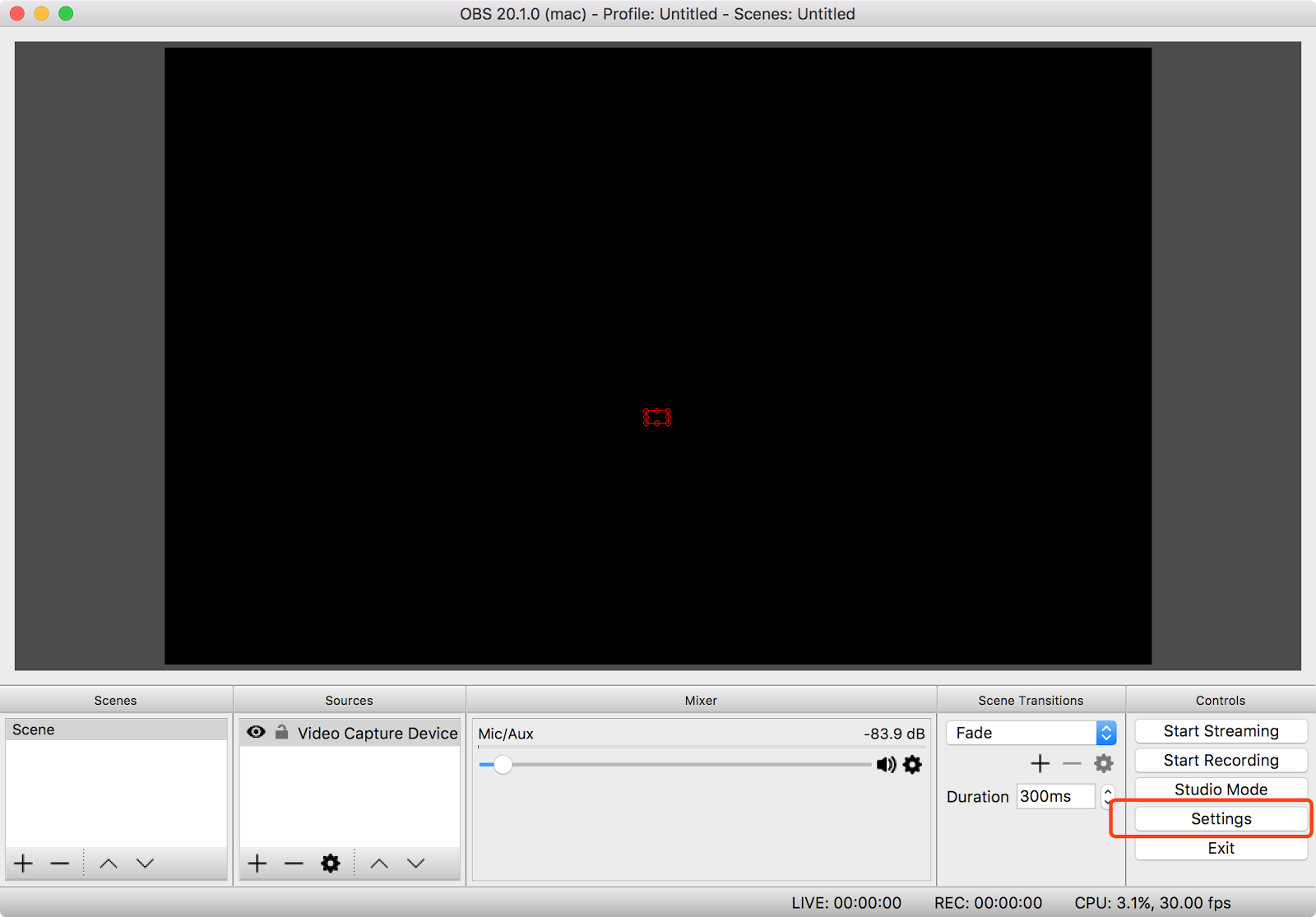 Step 6:
Click on the Stream settings button and fill in the details required in order for OBS to connect to Dlive an example can be seen below once this is done return to the dlive page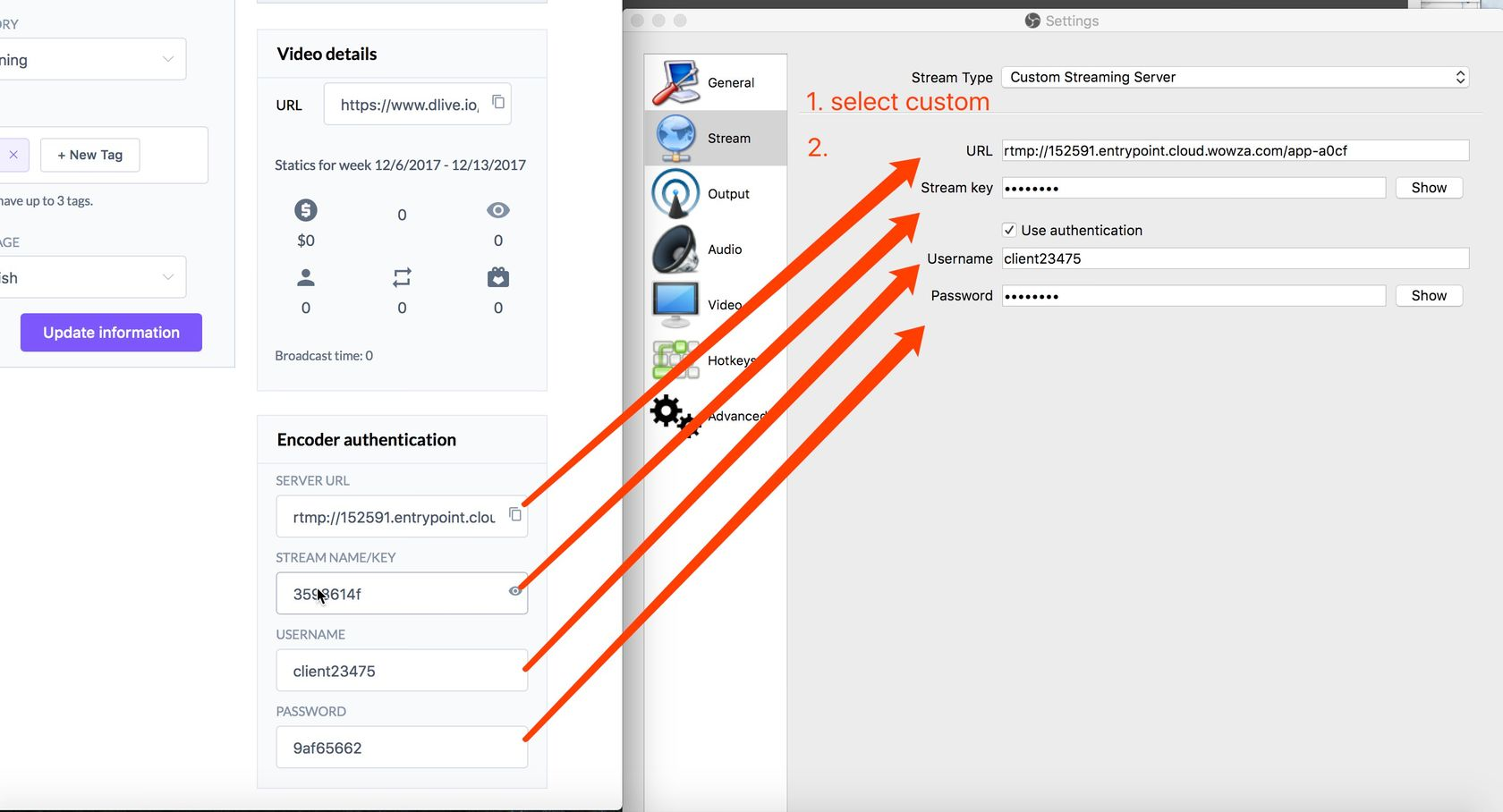 Step 7:
Click on the start button in order to start your stream as seen below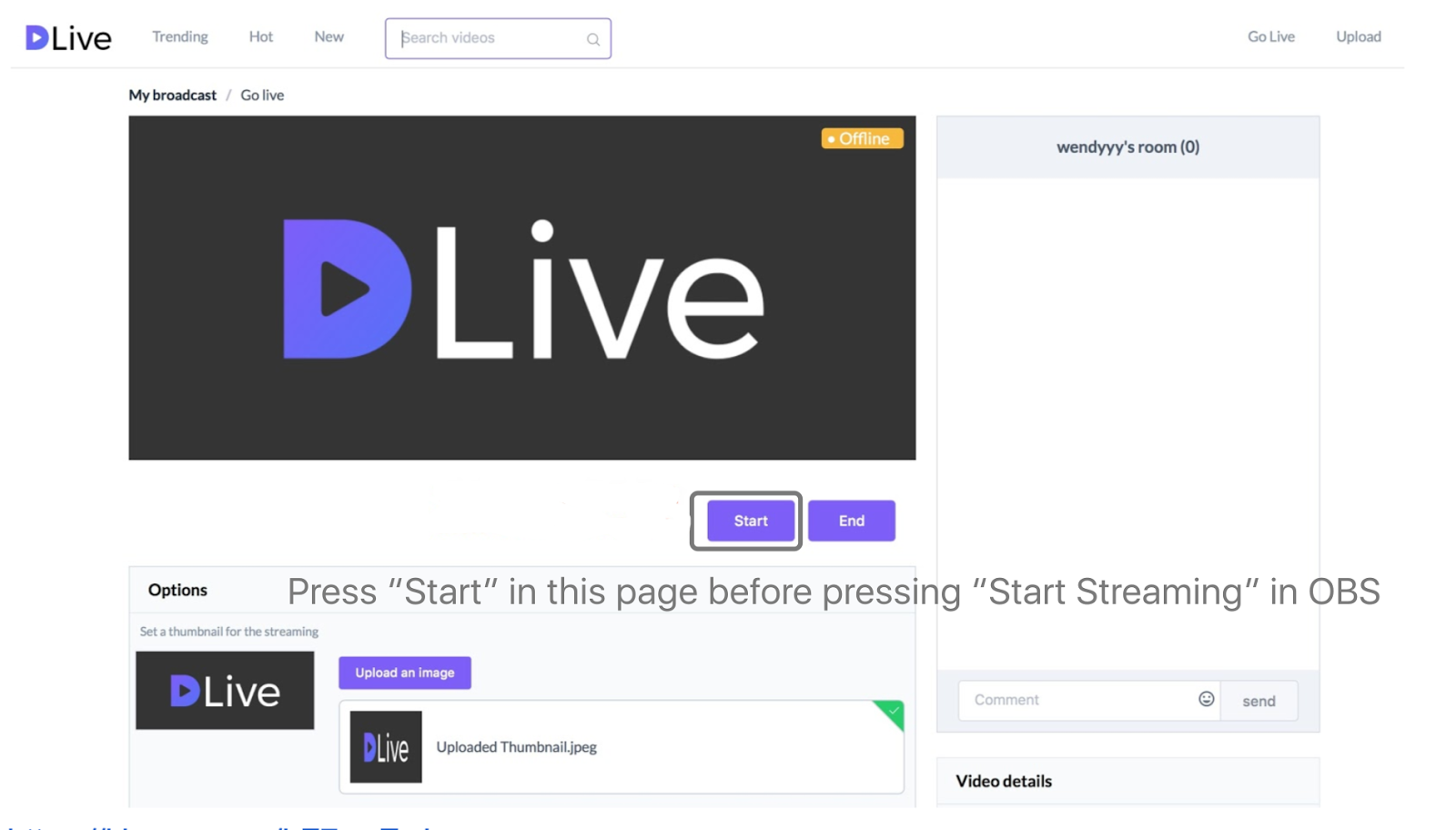 Step 8:
Return to OBS and click on the start streaming button to connect OBS to Dlive. Congratulations your first stream is live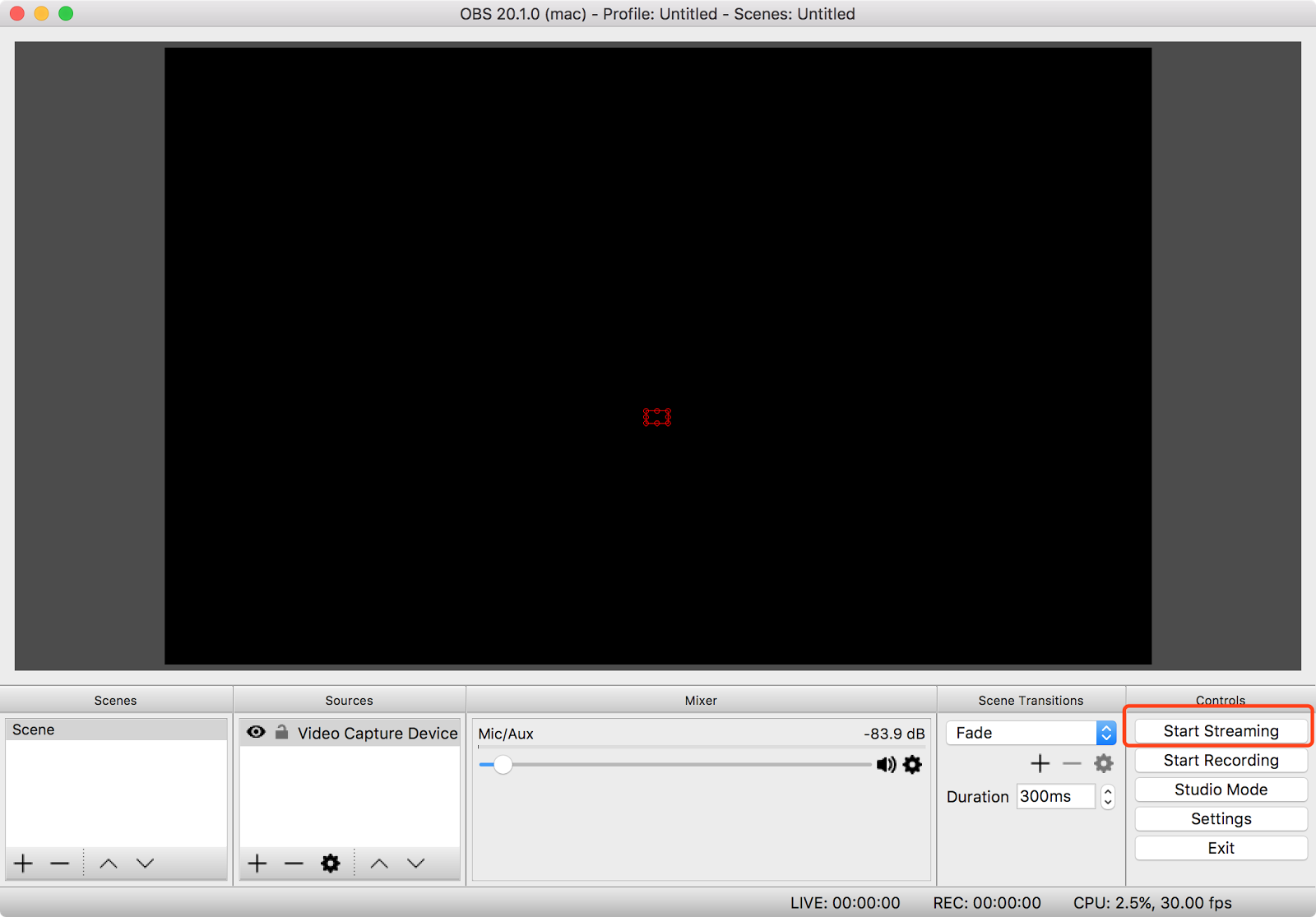 How Do I Upload My Broadcast
Step 1:
Click on the upload button found on dlive as seen below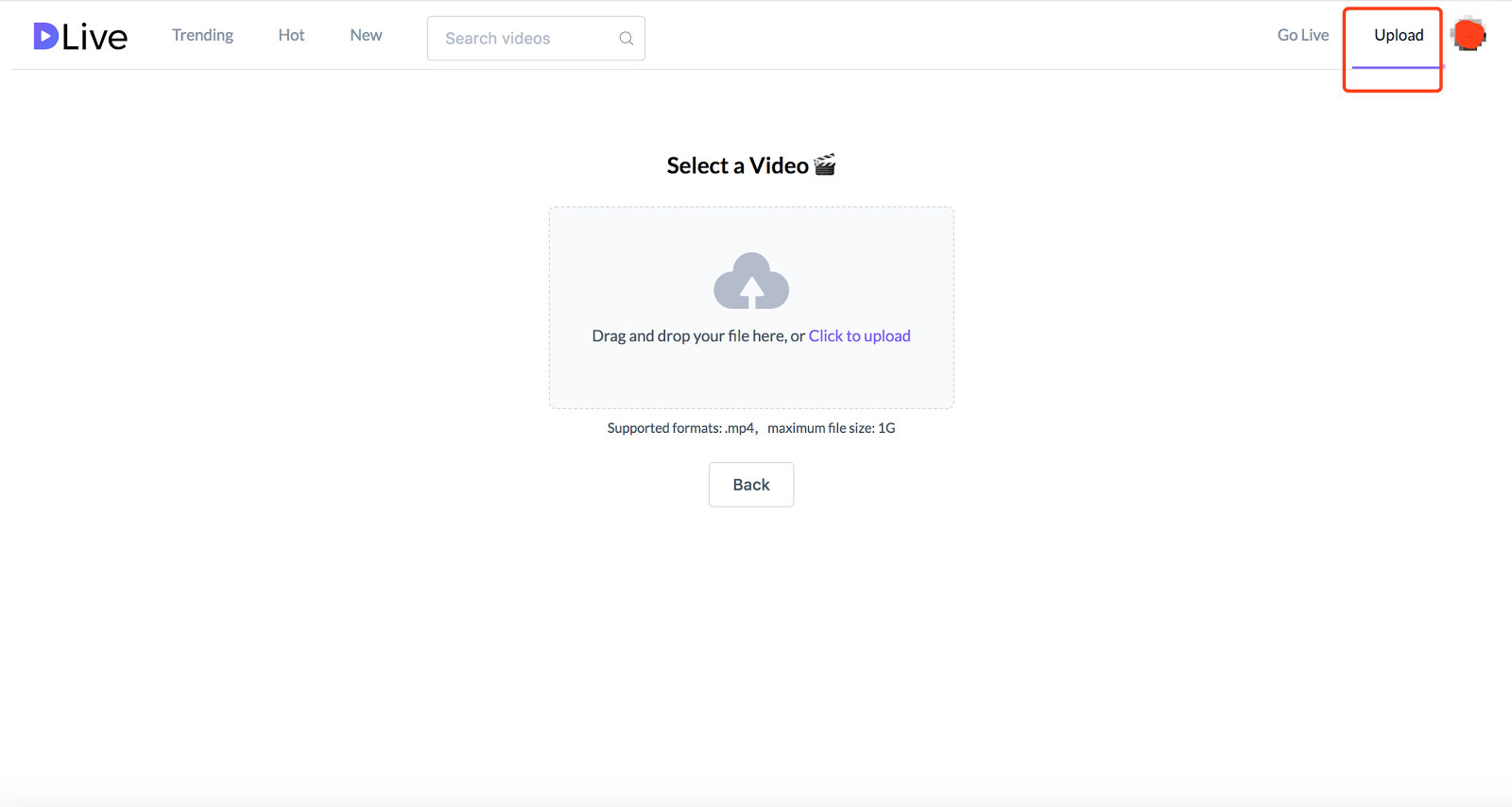 Step 2:
Select the video you wish to upload dlive will automatically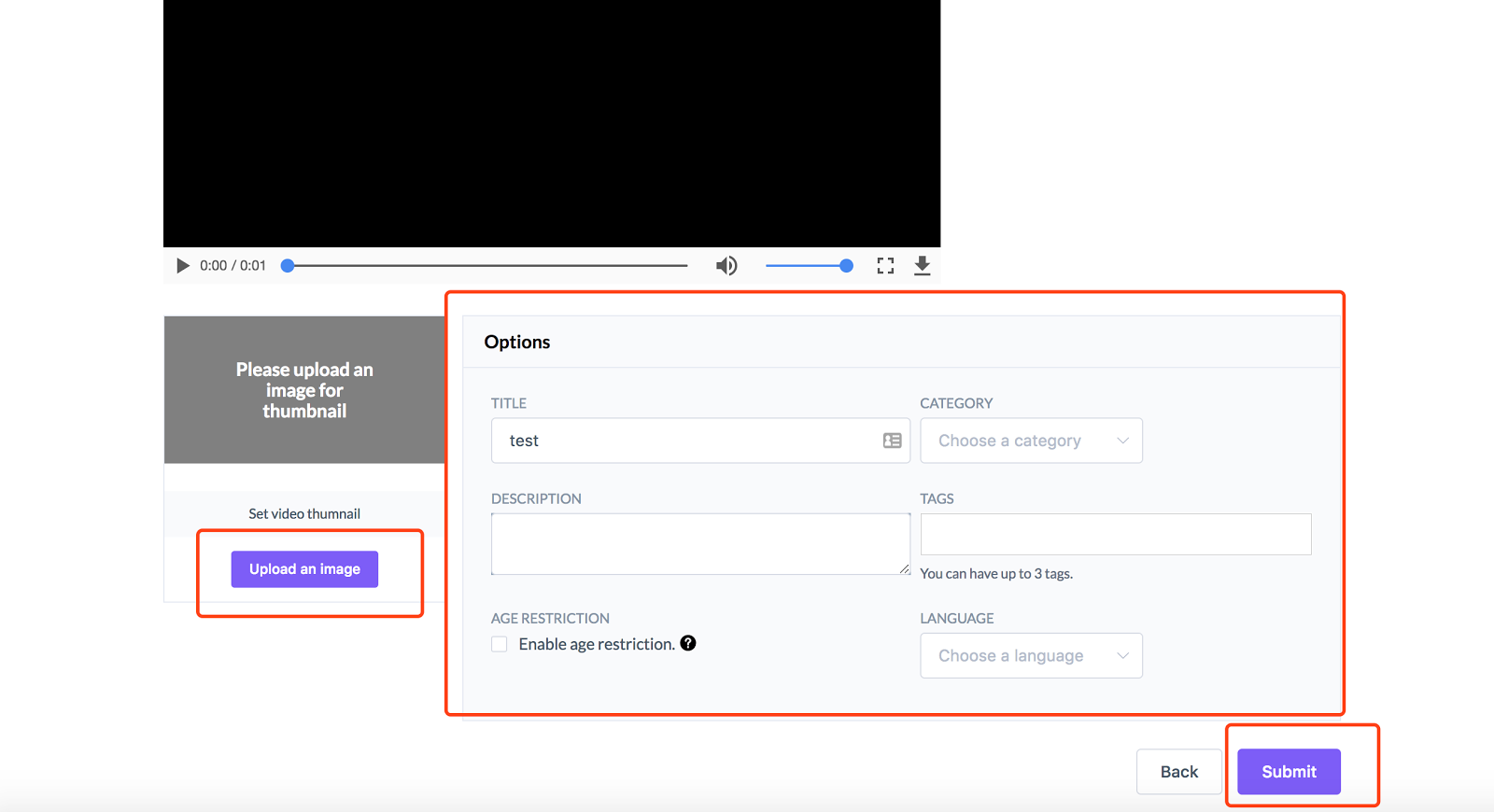 allow you to download your live stream so make use of this feature it makes life much more easier and then fill out the details and click on the submit button as seen below
Step 3:
Enter the information desired for the Steemit post and select the type of rewards you want and click on the post button as seen below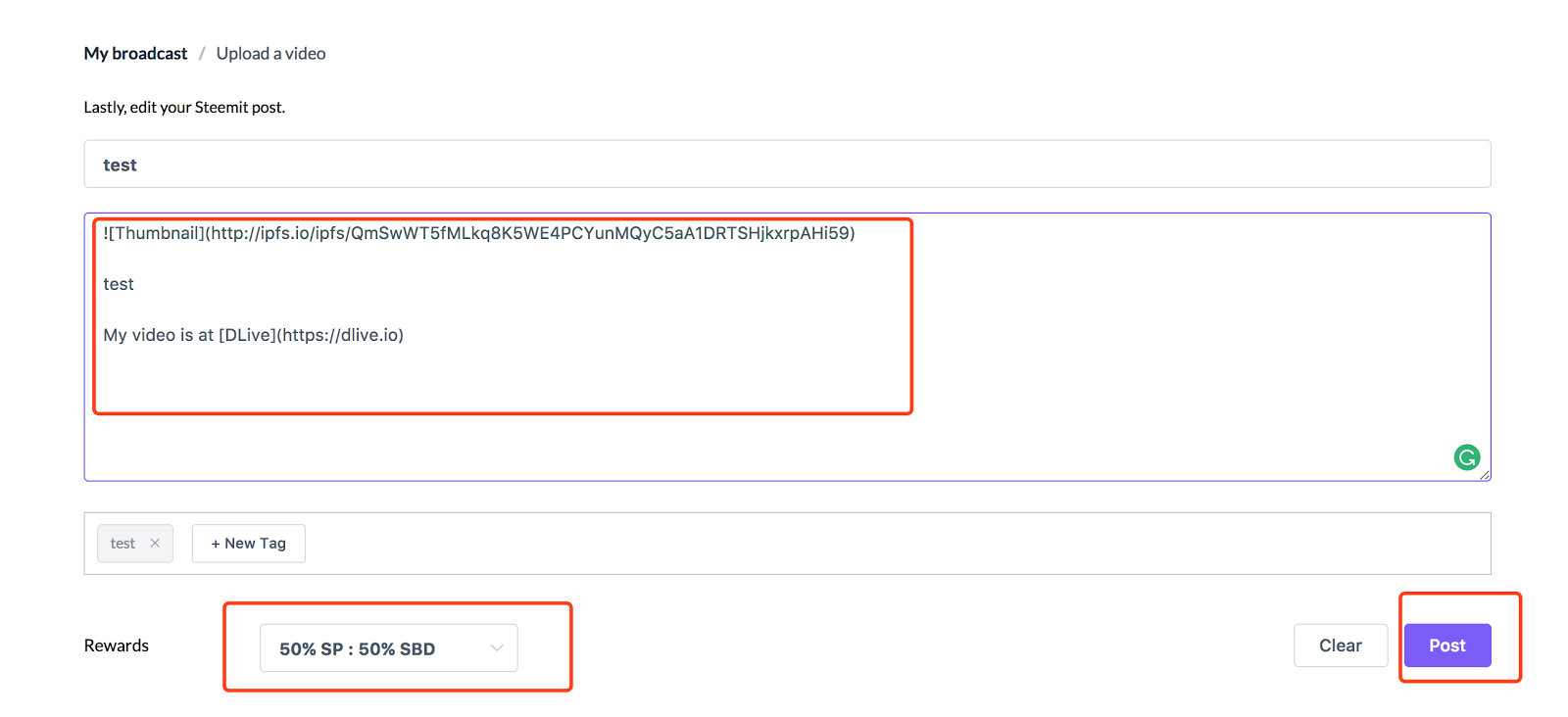 Summary
I hope you guys learned what Dlive is and how great of a platform it really is when compared to other services available. I truly believe in this project and wish to see it succeed in the future. I also hope that the guide was useful for some of you in order to start your first broadcast.